The Superior Four Poster Room
Our superior four poster bedroom has a king size bed with memory foam mattress, dual aspect with views of Shanklin town and St. Martins Down, comfortable bay window seating, coffee table, large screen TV, towels, bottled water and beverage tray.
The ensuite facilities include a large shower, "his & her" vanity sinks and toiletries.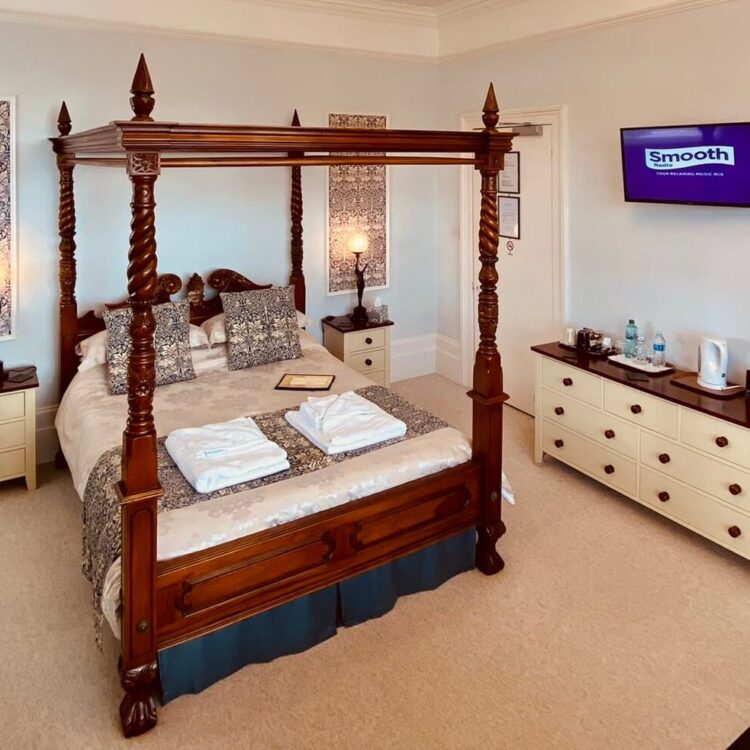 October stay
Have stayed at Snowdon House many times before on my annual visit to IoW - still maintains its excellent standard, including its breakfast!
RAY
Perfect place to stay !
I spent almost a week there and enjoyed the spacious room, the great breakfast and the warm welcome very much. The place is highly recommendable. Stephan (Germany).
DR
Excellent stay at Snowdon House
This is a very welcoming establishment, and offers superb value for money - it is clean and the rooms are well-appointed. Finally, the breakfast choice is very varied and offers some options not often available at other establishments - a great stay!
MR
Enjoyable Break
A lovely few days were enjoyed in a hotel conveniently placed for access to Shanklin's attractions and facilities. The welcome was warm and friendly, the room large clean and comfortable and the breakfasts plentiful and tasty. No hesitation in recommending for a short or longer stay.
Shaun
Lovely b+b, nice room and friendly.
Martin
Relax on the Isle of Wight
Holiday Accommodation on the Isle of Wight